Podcast: Play in new window | Download
Passionate blogging leads to success. Ricky Potts is an extremely busy guy who has a lot of passions.  He started his personal blog not too long ago and has been able to generate 40,000 – 60,000 unique views on his blog every month.  He's also leveraged his blog writing to create multiple opportunities for himself and his career including becoming the Digital Communications Manager for Troon Golf, a contributor to DiscountTeeTimes.com, and Relentless Beats.  He's passionate about craft beers, golf, electronic dance beats, and blogs about them all.  Learn how passionate blogging led to his success.
Ricky Potts is the Digital Communications Manager for Troon, passionate blogger, total beer snob, music fanatic, weekend golfer, runner and an all around opinionated realist.
Troon Golf is the largest golf management company in the world and Ricky got
connected with Troon Golf through a company he previously worked at
called, Imavex.   Troon Golf reached out to him to ask him to become their Digital Communications Manager and he jumped on the opportunity.
Ricky writes for Discount Tee Times, a unique reservation system in its 20th year of business, catering to the needs of the golfing community. They offer discounts of 20-60% off the posted rate for play today, tomorrow and up to 60 days in advance at over 100 championship courses throughout Arizona and Nevada.
He also writes for Relentless Beats which is Arizona's longest running and most influential global dance music force.
He also created 1,001 bottles of beer where he writes on numerous craft beers he's tried.
And, he's the owner of the Google+ golf community and host of the weekly Friday Foursome.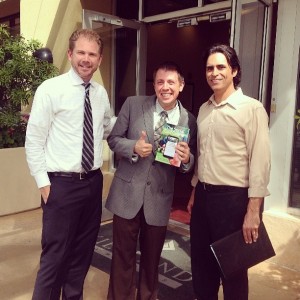 Shout Outs:
DJ Eric Prydz
Kris Strauss
DJ Tiesto
Paul Oakenfold
Success Quotes:
"If I got one person to read one blog post than that entire blog post was worth writing."
"Success is what you make it."
"Go figure out what it's going to take to make you successful and do that."
"I can't imagine not being the happiest person on the planet."